Who we are
In the Pastoral Constitution Gaudium et Spes, the Fathers of the Second Vatican Council expressed the need for the Church to continually place herself before the needs of the cultures of the world. The Church, faithful...
Read more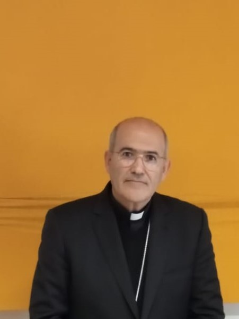 Pope Francis appointed His Eminence Cardinal José Tolentino de Mendonça as prefect of the Dicastery for Culture and Education on September 26, 2022. He was born in Funchal, in the island of Madeira, on 15 December 1965....
Read more
The Members of the Pontifical Council are important personalities from the Church and the world of Culture, nominated by the Holy Father for periods of five years. These cardinals, bishops, priests and lay people help the council identify the main cultural challenges facing the Church and establish...
Read more
La risorsa scelta per l'IMMAGINE non e' renderizzabile
The Dicastery is able to call on the collaboration of Consultors, who are nominated for a five-year term by the Holy Father. They are invited to offer their considerations or attend meetings to discuss various questions. Msgr. Guy-Réal Thivierge, secretary general of the Gravissimum...
Read more

Bishop Paul Tighe from Ireland is the Secretary. He was born in 1958 and grew up in Navan and Sligo, graduating from University College Dublin in 1979 with a degree in Civil Law. Having studied for the priesthood at Holy Cross College, Dublin and at the Pontifical Irish College in Rome, he was...
Read more

Born in Jaca (Spain) in 1966. He is a priest of the archdiocese of Toledo (Spain) from 1993. He studied at the Faculty of Philosophy at the Università Complutense in Madrid (1989), then theology at the Studium Theologicum "San Ildefonso", in Toledo. In Rome he read biblical theology at the Theology...
Read more

Antonella Sciarrone Alibrandi On 25 November 2022 she was nominated Undersecretary of the Dicastery for Culture and Education. She is a Professor of Economic Law in the Faculty of Banking, Financial and Insurance Sciences at the Università Cattolica. She has held various posts past and...
Read more

Carlo Maria Polvani was born in Milan in July 1965. He studied at the Leone XIII Institute (Milan) and the Collège Stanislas (Montreal). From the Department of Biochemistry of McGill University (Montreal) he received a degree (B.Sc.) in 1985 and a doctorate (Ph.D.) in 1990. He obtained a Master of...
Read more