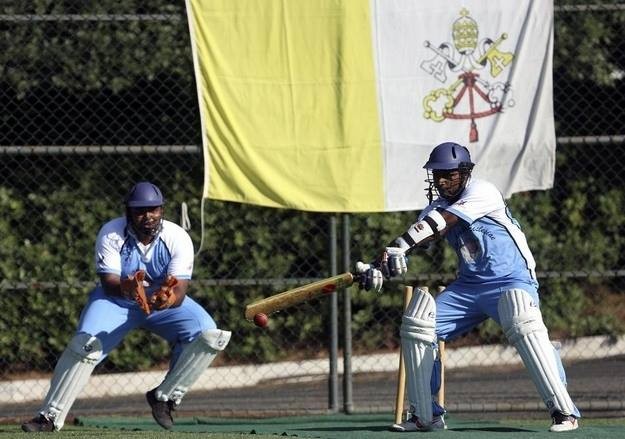 Members of the St. Peter's Cricket Club playing at St. Peter's Field, in Rome
Sport is a mass phenomenon. Each week, sport mobilises hundreds of thousands of people as they flock to stadia to see their teams or watch a Formula One race on television. The sports market moves astonishing figures, but it is also capable of unleashing extremely strong passions. In some cases, sport is a worrying phenomenon of violence, a refuge for extremists and racists. At other times, however, it is a factor for social gathering, when after the competition the competitors celebrate together.
This phenomenon, so important in human life, deserves to be studied, analyzed, understood, and valued, to answer two big questions: What has sport to say to the Church? What has the Church to say to sport?
For our part, sport requires careful attention to understand its dynamics and values, rather than just condemning it as a degenerate phenomenon. Culture cannot be evangelized from the outside, but from its heart, from within the cultural phenomenon. In other words, before speaking to the world of sports, you must listen and try to understand it. Therefore, the Department will not only speak to the world of athletics, but also bring to the Church the echo of the great cultural aspirations of the world, deepening their expectations and exploring new avenues of contemporary cultural dialogue with its protagonists.
In line with the major objectives of the Pontifical Council for Culture, therefore, the objectives of the Department "Culture and Sports" are to:
1. Bring together the saving message of the Gospel and the world of sports, in order to open it up further to the Christian faith, which creates culture.
2. Encourage use of sport as an educational resource and tool for the cultural development of peoples.
3. Along with other offices of the Holy See in this sector, establish relationships with international sports bodies, and with Catholic sports associations.
4. Facilitate dialogue at the Church-University with sports people, sports centers and organizations, and promote meaningful encounters between these cultural worlds.