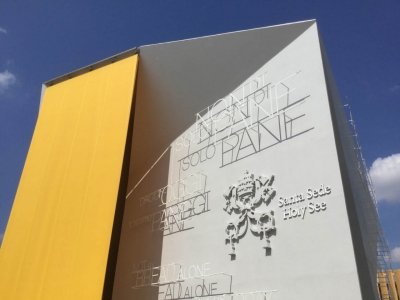 The Holy See Pavilion
The National Day of the Holy See at Expo Milan 2015 took place Thursday 11 June with two key appointments, both at the Expo Auditorium.
The first, "Not by bread alone", began at 11am with input by H.Em. Cardinal Gianfranco Ravasi, Commissioner General of the Holy See, H. Exc. Mons. Angelo Becciu, Substitute for General Affairs of the Secretariat of State, H.Em. Cardinal Angelo Bagnasco, President of the Italian Episcopal Conference, H.Em. Cardinal Angelo Scola, Archbishop of Milan.
The symphonic orchestra Esagramma performed the Pontifical Anthem and other musical pieces.
And at 4.30pm again in the Auditorium of Expo, a Courtyard of the Gentiles on the theme The faces of the earth sees a dialogue between Cardinal Gianfranco Ravasi, President of the Pontifical Council for Culture, Prof. Giuliano Amato, President of the Foundation "Courtyard of the Gentiles", Nicolas Hulot, Commissioner General of the World Conference 2015 on Climate, with the moderation of Monica Maggioni, Director of RaiNews24.
Further info: www.expoholysee.org