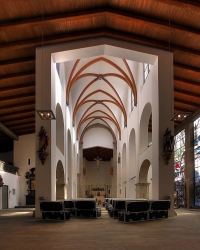 The Pastoral Center "Crux" for Young People in St. John Baptist's, Cologne, Germany
Guidelines for Decommissioning and Ecclesial Management of a Former Church.
The Pontifical Council for Culture and the delegates of the episcopal conferences of Europe, Canada, the United States and Australia present on the occasion of the conference "Doesn't God Dwell Here Anymore? Decommissioning Places of Worship and Integrated Management of Ecclesiastical Cultural Heritage," held in Rome at the Pontifical Gregorian University 29-30 November 2018, approved these Guidelines for ecclesial communities. They were enhanced by the reflections offered during the conference.
The full text of the Guidelines is available in pdf at this link: English - Italian - French